Vertical store for transfer press clamps
Since not all companies have the same needs, our main objective is to provide our customers with the best solutions that match their financial and functional requirements. Thus we have designed a store that that can hold up to 102 clamps, optimising both the access to them and the space occupied. It can be installed in the area between two columns, below the travel of cranes, etc, to make better use of the floor space, solving problems of space and internal mobility.
Custom-designed for each space and for each clamp to be stored, the store is based on a vertical storage system with buckets. It is protected by anti-fall fences and photoelectric barriers to prevent unintentional access to its interior and has four emergency stops, one on each of its corners.
Once the number of clamps that the customer considers appropriate (maximum 102) have been placed in the buckets, the operators can retrieve those that they need at the time for working in the transfer presses and can access them from both sides of the installation.
The direction and speed of rotation of the carousel is controlled by two button panels, one on each side of the accesses to the clamps.
After the main switch on the door of the electrical panel is turned on, pressing any of the reset buttons on the hanging button panels enables the safety module that controls the starting of the shifter.
If the safety conditions are met, that is, there are no obstacles blocking the perimeter and/or interior photoelectric barriers and none of the four emergency stops on the corners of the clamp store are pressed, the carousel can be turned in the required direction, initially slowly (with the first press of the direction button) and then quickly if the button is fully depressed.
The movement accelerates smoothly while warning tones and lights on each side of the store are activated to show that there is movement inside the protective fence.
The electrical control requires the presence of an operator to choose the stopping position; various openings in suitable positions are therefore provided.
Two open areas are provided to allow the operator to remove or place the clamps from two presses.
The clamps are blocked by two fixing flanges on each bucket which must be operated to free them or to replace them in the store. These safety measures are personalised for each side of the store.
In all cases, a study is carried out to match the design of the store to the available space. However, as a guideline, the following are the technical properties of the last store designed.
Dimensions:
Width: Up to 12.000 mm.
Depth: More than 2.000 mm.
Height: Up to  10.000 mm.
Working height: 700 – 1400 mm.
Maximum number of clamps: More than 100.
Maximum length of each section 11.500 mm.
The biggest press clamps store has more than 600 linear meters of capacity.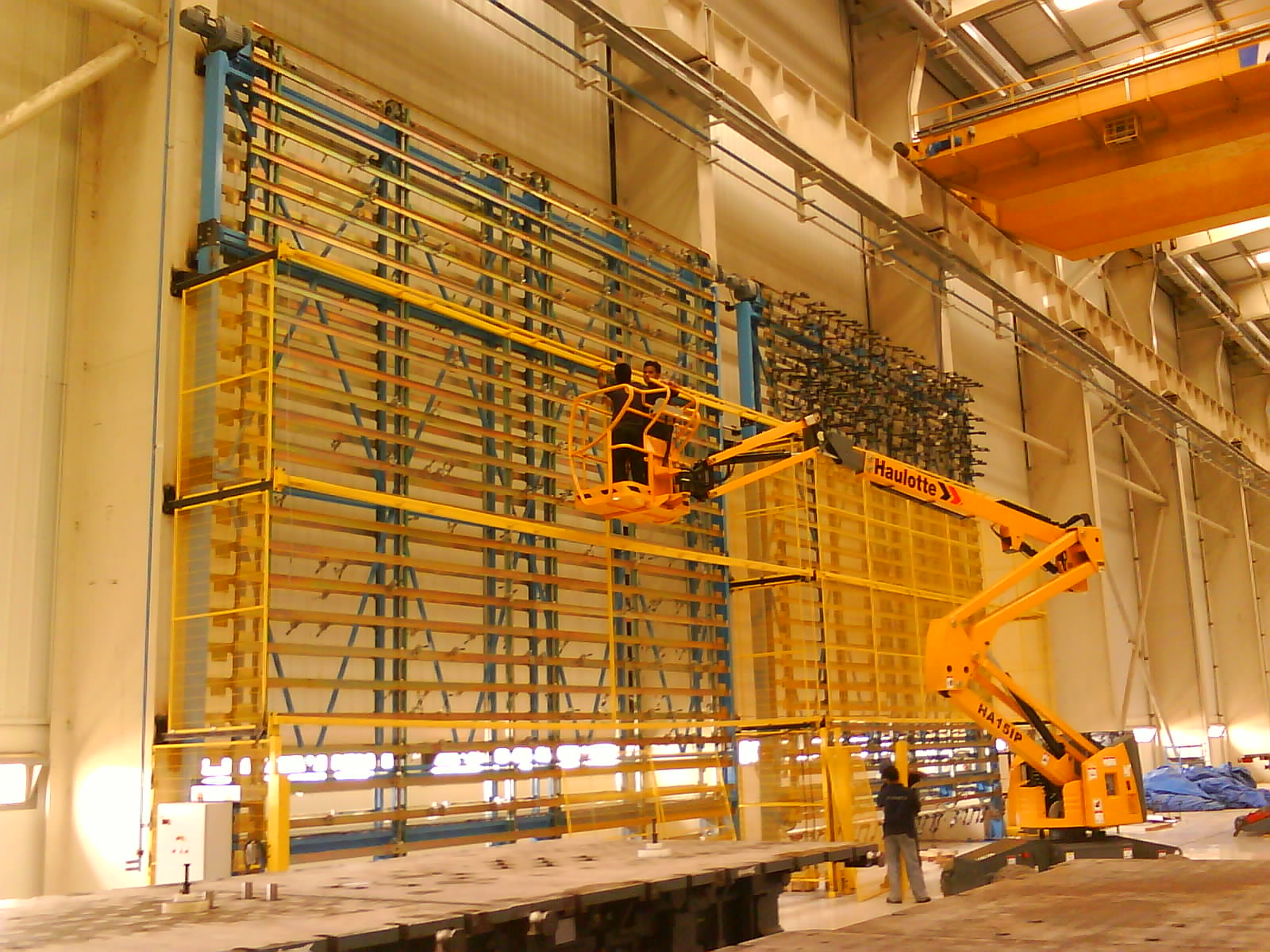 Success stories
References

↑