Destacking tables for hot stampling
Forms de-stacking tables are a fundamental part of a stamping line. These tables are located at the head and store forms for the hot stamping press.
These tables usually work in tandem to prevent forms supply stoppages. They also function automatically and are controlled by the process controller.
All de-stacking tables serve the same purpose but have different technical properties according to the client's specifications. In Sercame we have studied the special properties of hot stamping lines and adapted our destacking tables to provide maximum output in the installation.
These de-stacking tables can withstand a load of up to 10,000 kg, divided into one or two stacks of forms. By defining an optimised layout, we eliminate the tables' access doors, door closed safety detectors and even non-physical barriers to ensure pedestrian line access safety. The Mutting barrier system is optional. This configuration includes protective fences on both sides of the table, at the entrance and exit, so that the area is always safe, whether the table is loaded or de-stacked.
These tables are 250 mm high and the space between table and floor is 75 mm, so that in this case it is not necessary to install skirts, contact stoppage systems or anti-trap protection on the lower parts. This very low table level requires the removal of the drive system and replacing the drive wheels with a rack and pinion system which is more reliable, to guarantee the table's position and traction.
The table and fence system is approximately 1,100 mm high, which reduces the number of movements for th ede-stacking robot and, as a result, the programming costs, while lengthening its useful life and reducing maintenqance work. In SERCAME we study the client's work process and adapt our products to optimise the available resources.
The operator loads the table with the plates pallet, places the magnets to one or both sides and presses the Validate button. The line controller moves the table to a pre-set position where the robot collects the top form from the pallet and inserts it into the press. These tables are prepared for use with pin-pallets. Each table has pantographs around its periphery with ferrite or neodymium magnets that generate a magnetic field that keeps the forms separated, facilitating the de-stacking of the plates on the pallet by the robot. While the first table is being unstacked, the operator loads the second one and validates it. When the last piece detector signals that the last plate has been picked up, the robot starts to unstack forms from the second table, leaving the first one free for re-loading and re-validating.
References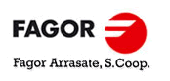 ↑